If you have a 
working 
copy of your software on another computer, you can use your license file from existing installation to new installation. If you have a working CD, an unexpired web delivery, wish to purchase a product replacement, or upgrade to the current version of the software please see 
Need to Reinstall
 for help with these processes. 
Note: You must have the most current version of your software to be eligible for a product replacement
Install program on new computer

Go to Web Delivery Links for Hy-Tek Software and download setup file for your software

Run setup.exe that was downloaded in previous step
When prompted to enter license code, close program 

Place a flash drive into computer with working copy of Hy-Tek software
Navigate to license file on computer, right-click on file and select copy (see picture below)
Note: This table lists the location and name of the needed license file
| Software | License File | Location |
| --- | --- | --- |
|            SWMM8 |            swmeet8.mem |            C:\Hy-Sport\SwMM8 |
| SWMM7 | swmeet7.mem | C:\Hy-Sport\SwMM7 |
| SWTM8 | tm8.lic | C:\Hy-Sport\TM8 |
| TFMM6 | tfmeet6.mem | C:\Hy-Sport\TFMM6 |
| TFMM5 | tfmeet5.mem | C:\Hy-Sport\TFMM5 |
| TFTM4-2 | tftm4-2.lic | C:\Hy-Sport\TFTM4-2 |
| SWBM5.1 | sportsbm.mem | C:\Hy-Sport\SportsBM |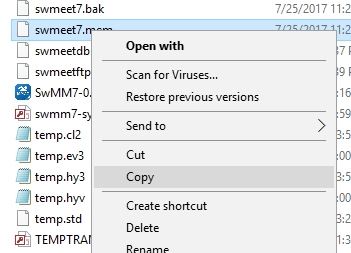 Navigate to your flash drive, right-click and paste license file to flash drive 
Note: You can also e-mail the license file to yourself as long as you have email access on both computers. 
Remove flash drive and insert it into computer with new installation of software 
Navigate to flash drive, and locate license file, right-click and copy file 
Navigate to product folder (see table above), right-click and paste license file 
When prompted select Copy and Replace 

Double-click desktop icon to launch program
Note: The bottom left of the screen for your program should now read Licensed to: "your organization"