Below are instructions for athletes to edit their registration information after logging into ACTIVE.com and accessing My Events at https://myevents.active.com

.
Note: The option is only available if the organizer allows this action and the deadline hasn't been reached. If this option is not available, please contact the organizer for help.
Note:
Registrations made by someone else on your behalf (if you are an adult) can be edited by that person or by yourself after you Claim Registration in MyEvents; registrations for those who are part of a group-registration team cannot be edited online.
Locate desired event
Click Edit registration
​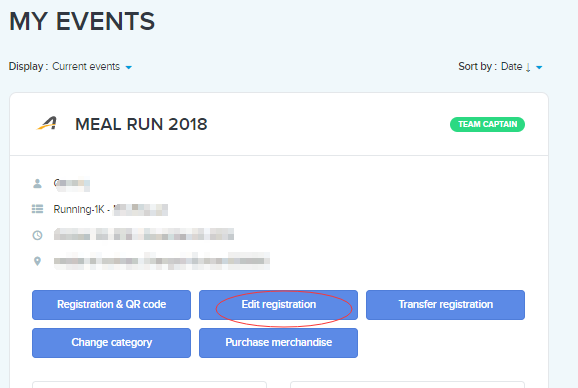 Update registration information

Click Continue to view a confirmation message stating that registration information has been updated
The following fields may be adjusted on most online registrations (assuming the event organizers allow edits). All fields are required (by ACTIVE.com or the organizers) unless noted as optional.
Gender

Date of birth

Day phone (and Ext. )

Country

Address

Address line 2 (optional)

City

State

ZIP / Postal code

Emergency contact name (optional)
Emergency contact phone (optional)
How did you hear about this event? (optional)