Below are instructions to add new divisions or edit existing divisions when using Meet Types of
Divisions by Event
,
Divisions by Team
, or
Divisions by Entry
.
Add New Divisions
Go to Set-up > Meet Set-up and select appropriate Meet Type
Go to Set-up > Division/Region Names > Divisions
Click Add
Enter division Code and Division Name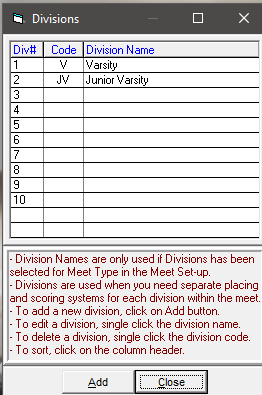 Click OK
Note: Division # for new division will begin at 11. Edit an existing record to use the correct number.
Edit Existing Divisions
Go to Set-up > Meet Set-up and select appropriate Meet Type
Go to Set-up > Division/Region Names > Divisions
Double click Division Name of division to edit
Edit Code and Division Name as desired
Click OK
Note: Division # will remain the same